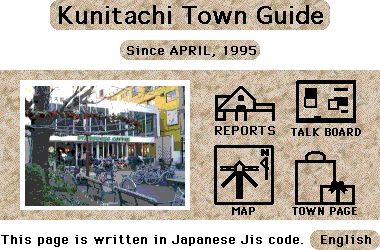 Kunitachi International Friendship Association (KUNIFA)
Newsletter of Health/Living/Events Information
TEL/FAX : +81-42-576-1577
HIC (Hitotsubashi International Clearinghouse)
Useful information for foreign students in Kunitachi. Let's join the mailing list, then you can get much useful information which this site provides by just checking your e-mail box.
Go to http://www.inter-university.com/ & click "HIC" LOGO!
FOREIGNERS' INFORMATION SERVICE
TIME : First and Third Monday of each month 10:00 AM - 12:00
PLACE : Citizens' Consulation Corner, Kunitachi City Office
(First Floor)
TEL : +81-42-576-2111
About Kunitachi
About Tokyo, etc.
Please send the comments of this page to Saeki Akira. If you find any information wrong or misstated, please contact me.
Email : saeki@vrenpo.com
(C)Kunitachi Town Guide ...directed by A.Saeki